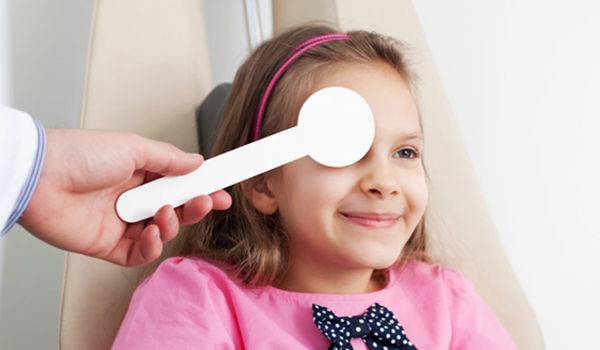 Children's Vision and Learning go hand in hand
Did you know that 80% of everything a child learns, understands, and remembers is acquired through his or her visual system? Vision is very important in the learning process. What's worse is that one in four children have undiagnosed vision problems that affect their learning. Sometimes the problem is misdiagnosed as ADD (attention deficit disorder), ADHD (attention deficit hyperactivity disorder), or dyslexia.
It is important that children receive comprehensive visual exams starting as early in life as possible. Vision screenings at school are not sufficient as a basis for diagnosing vision problems. A comprehensive exam may find a visual problem missed during screenings, and your eye doctor can recommend treatment.
How to Tell if Your Child may have Vision Problems:
Children suffering from uncorrected vision problems may face many barriers in life – socially, academically, and athletically. Make sure your child's vision is developing well.
When should kids have their eyes examined?
According to the American Optometric Association (AOA), infants should have their first comprehensive eye exam at 6 months of age. Children then should receive additional eye exams at 3 years of age, and just before they enter kindergarten or the first grade at about age 5 or 6.
For school-aged children, the AOA recommends an eye exam every two years if no vision correction is required. Children who need eyeglasses or contact lenses should be examined annually or according to their eye doctor's recommendations. School screenings are not adequate and often miss vision issues.
Scheduling your child's eye exam
When scheduling an eye exam, choose a time when your child is usually alert and happy. Specifics of how eye exams are conducted depend on your child's age, but an exam generally will involve a case history, vision testing, determination of whether eyeglasses are needed, testing of eye alignment, an eye health examination and a consultation with you regarding the findings.
After you've made the appointment, you may be sent a case history form by mail, or you may be given one when you check in at the doctor's office. The case history form will ask about your child's birth history (also called perinatal history), such as birth weight and whether or not the child was full-term. Your eye doctor also may ask whether complications occurred during the pregnancy or delivery. The form will also inquire about your child's medical history, including current medications and past or present allergies.
Tell your eye doctor if your child has or displays any of the following:
Delayed motor development
Failure to maintain eye contact
Inability to maintain a gaze (fixation) while looking at objects
Failed pediatrician or pre-school vision screening
Your eye doctor will also want to know about previous ocular diagnoses and treatments involving your child, such as possible surgeries and glasses or contact lens wear. Be sure you inform your eye doctor if there is a family history of eye problems requiring vision correction, such as nearsightedness or farsightedness, misaligned eyes (strabismus) or amblyopia ("lazy eye").
Eye Testing for Preschool Children
It's not necessary preschool-age children to know their letters in order to undergo certain eye tests, even when they are too young or too shy to verbalize. We are equipped to handle vision testing of children as early as 2 years old.
LEA symbols for young children are similar to regular eye tests using charts with letters, except that special symbols in these tests include an apple, house, square and circle.
Retinoscopy is a test that involves shining a light into the eye to observe the reflection from the back of the eye (retina). This test helps eye doctors determine your child's eyeglass prescription.
Random dot stereopsis testing uses special patterns of dots and 3-D glasses to measure how well your child's eyes work together as a team.
Some of the Common School Children vision problems our optometrist looks for:
Crossed or misaligned eyes
Inability to maintain eye alignment when viewing near objects
Remember appropriate vision testing at an early age is vital to insure your child has the visual skills he or she needs to perform well in school. Call today to set an appointment for your child at (512) 260-0405.